Big Heat, The (1953)
Leonard Maltin Review ***:
D: Fritz Lang. Glenn Ford, Gloria Grahame, Jocelyn Brando, Alexander Scourby, Lee Marvin, Carolyn Jones, Jeanette Nolan. Time has taken the edge off once-searing story of cop determined to bust city crime ring; famous coffee-hurling scene still jolts, and Grahame is excellent as bad girl who helps Ford.
Meredy's Thoughts:
The film was written by former crime reporter Sydney Boehm, based on a serial by William P. McGivern, which appeared in
The Saturday Evening Post
and was published as a novel in 1953.
Director Fritz Lang utilized many of the elements typical to his other films: unseen yet gruesome violence, relentless pacing, and a hardboiled view of justice and revenge. Glenn Ford is fine as the police detective. Lee Marvin and Gloria Grahame shine in key supporting roles. Has to be seen at least once for the coffee-hurling scene alone.
Suddenly (1954)
Leonard Maltin Review ***1/2:
D: Lewis Allen. Frank Sinatra, Sterling Hayden, James Gleason, Nancy Gates, Willis Bouchey, Kim Charney, Paul Frees, Christopher Dark, Charles Smith. Sinatra leads trio of paid assassins who take over house in small town where the President will pass on his way to a fishing trip. White-knuckle thriller, written by Richard Sale, with Sinatra excellent in thoroughly detestable role; rest of cast equally fine. "Suddenly," incidentally, is the name of the town.
Meredy's Thoughts:
The lesser known of the two films involving Frank Sinatra which were withdrawn from distribution after the death of JFK. The other is
The Manchurian Candidate
.
Suddenly
offers a more conventional portrait of cold-war hysteria and '50s conformity.
Sinatra is excellent as the paranoid, embittered WWII vet, Gleason has one of his best parts as a wily retiree who understands how to exploit the chinks in the killer's psyche, and Hayden is solid in a lesser role.
Film is in the public domain. Be sure and miss the notorious colorized version. Sinatra's famous blue eyes were colorized brown!
I Died a Thousand Times (1955)
Leonard Maltin Review **:
D: Stuart Heisler. Jack Palance, Shelley Winters, Lori Nelson, Lee Marvin, Earl Holliman, Lon Chaney (Jr.), Dennis Hopper. Overblown remake of Bogart's
High Sierra
with Palance as mad killer with soft spot for crippled girl (Nelson). Winters is his moll in this gangster run-through. CinemaScope.
Meredy's Thoughts:
Why do a scene-by-scene remake of the classic
High Sierra
? Pointless. Only interesting for film buffs who like to compare performances.
The stereotype comedy-relief character played by black actor Willie Best in the original film has been replaced by a Mexican stereotype played by Pedro Gonzales-Gonzales. I guess stereotyped Mexicans were more acceptable to 1950s audiences than stereotyped African-Americans.
Think I'll make and eat breakfast while it's on.
Beyond a Reasonable Doubt (1956)
Leonard Maltin Review **1/2:
D: Fritz Lang. Dana Andrews, Joan Fontaine, Sidney Blackmer, Philip Bourneuf, Barbara Nichols. Far-fetched tale of man who pretends to be guilty of murder to get firsthand view of justice system, unable to prove himself innocent later on. Pale production values. Intriguing idea doesn't hold up.
Meredy's Thoughts:
This was the last American film directed by Fritz Lang. Because Lang was working with a small budget, he was forced to sacrifice his richly detailed visual designs and be satisfied with making a competent suspenser.
Wooden acting by Dana Andrews and the rest of cast doomed this picture to mediocrity. The final plot twist requires a suspension of disbelief of huge proportions.
Reviews were mixed on this one. I'll rewatch it because Lang directed it.
Harder They Fall, The (1956)
Leonard Maltin Review ***1/2:
D: Mark Robson. Humphrey Bogart, Rod Steiger, Jan Sterling, Mike Lane, Max Baer, Edward Andrews. Bogart's last feature casts him as cynical sportswriter-turned-press agent who realizes for the first time how badly prizefighters are manipulated by their unfeeling managers. Powerful drama by Budd Schulberg.
Meredy's Thoughts:
This was Humphrey Bogart's last film. He was dying of esophageal cancer while making it. Occasionally inaudible in some takes, some of his lines are reported to have been dubbed in post-production by Paul Frees, who also appears in the film as a priest.
It was written by Philip Yordan and based on the 1947 novel of the same name by Budd Schulberg. The drama tells a thinly disguised à clef account of the Primo Carnera boxing scandal with the challenger based on Carnera and the champ based on Max Baer. Bogart's character, Eddie Willis, is based on the career of boxing writer and event promoter Harold Conrad.
The film was originally released with two different endings: in one, Eddie Willis demanded that boxing be banned altogether, while in the other, Willis merely insisted that there be a federal investigation of the prizefighting business. The video version contains the "harder" ending, while most television prints end with the "softer" message.
Put this one on your viewing list this week.
While The City Sleeps (1956)
Leonard Maltin Review ***:
D: Fritz Lang. Dana Andrews, Ida Lupino, Rhonda Fleming, George Sanders, Vincent Price, Thomas Mitchell, Sally Forrest, Howard Duff, James Craig, John Barrymore, Jr., Mae Marsh. Veteran cast and intertwining storylines keep interest in account of newspaper reporters and police on the track of a berserk killer.
Meredy's Thoughts:
Directed by Fritz Lang and written by Casey Robinson, this newspaper drama was based on
The Bloody Spur
by Charles Einstein, which depicts the story of "Lipstick Killer" William Heirens.
William George Heirens (November 15, 1928 – March 5, 2012) was a convicted American serial killer who confessed to three murders in 1946. Heirens was called the "Lipstick Killer" due to a notorious message scrawled in lipstick at a crime scene. At the time of his death, Heirens was reputedly Chicago's longest-serving prisoner, having spent 65 years in prison.
Time Out
film reviews wrote of the film: "Lang makes inspired use of glass-walled offices, where all is seen and nothing revealed, and traces explicit parallels between Andrews and the murderer. Lang's most underrated movie."
I agree. Watch this one. The film has proved to be one of Lang's more enduring successes over the decades, due to the combination of its virtues as a thriller and also as a snapshot of American mores circa 1954.
John Drew Barrymore (John Barrymore's son by Dolores Costello and Drew Barrymore's father) plays the "Lipstick Killer."
Blue Gardenia, The (1953)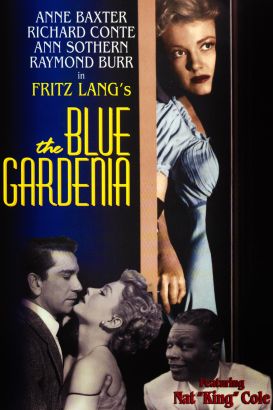 Leonard Maltin Review ***:
D: Fritz Lang. Anne Baxter, Richard Conte, Ann Sothern, Raymond Burr, Jeff Donnell, George Reeves, Nat King Cole. Engaging murder caper with 1940s flavor. Baxter is accused of murdering wolfish Burr, decides to take columnist Conte's offer of help. Solid film with twist ending.
Meredy's Thoughts:
The Blue Gardenia
is directed by Fritz Lang and based on a story by Vera Caspary. It is the first installment of Lang's "newspaper noir" movie trio.
While the City Sleeps
and
Beyond a Reasonable Doubt
(both 1956) are the other two.
Nat King Cole sings the title song and appears in the movie on the bandstand at the tiki bar.
The director of cinematography was one of RKO's regulars Nicholas Musuraca, then working at Warner Brothers.
Peter Bogdanovich called the film "a particularly venomous picture of American life."
Tom Vick said:
The Blue Gardenia contains one of the purest examples of Fritz Lang's ability to transform commonplace pieces of household technology (such as clocks and telephones) into engines of destiny. Lang often dismissed this film as a job-for-hire, but its recurring image of the telephone as a sinister conduit of possibly fatal information (and misinformation) remains intriguing. The Blue Gardenia subtly questions the 1950's mass-produced cultural blandness by exposing the dark side that's never very far below the surface.
Raymond Burr is at his smarmiest in this one. A must-see because of Lang and Musuraca.
Party Girl (1958)
Leonard Maltin Review ***:
D: Nicholas Ray. Robert Taylor, Cyd Charisse, Lee J. Cobb, John Ireland, Kent Smith. Crooked lawyer (Taylor) and showgirl (Charisse) try to break free from Chicago mob life. Charisse has a couple of torrid dance numbers; Ray's stylish treatment has won this film a cult following. CinemaScope.
Meredy's Thoughts:
This was the last film Robert Taylor did under contract for Metro-Goldwyn-Mayer.
Rico Angelo (Lee J. Cobb) is a composite based on Al Capone and Lucky Luciano. Elements in the film may be very loosely based on Luciano's feud with Dutch Schultz, but an episode where Angelo attacks someone with a metal cue may be based on a similar incident involving Capone. Thomas Farrell (Robert Taylor) is loosely based on Dixie Davis, a lawyer for mob boss Dutch Schultz of New York, who later turned informant and married a beautiful showgirl.
Bruce Eder says, "
Party Girl
is regarded by many Nicholas Ray fans as the most beautiful looking of all of his movies. Shot in CinemaScope and color, it gave cinematographer Robert J. Bronner one of the best showcases he ever had for his work, and was a treat to the eye of the viewer, a veritable explosion of color and motion for many of its best sequences."
I'll be watching this one.
Criss Cross (1949)
Leonard Maltin Review ***:
D: Robert Siodmak. Burt Lancaster, Yvonne De Carlo, Dan Duryea, Stephen McNally. Lancaster returns to hometown, where he crosses path of ex-wife De Carlo, who's taken up with gangster Duryea. Potent film noir look (by cinematographer Franz Planer) and music (by Miklos Rozsa) help compensate for Lancaster's miscasting as easily manipulated husband. Tony Curtis' screen debut; he's briefly seen as De Carlo's dance partner. Remade in 1995 as
The Underneath
.
Meredy's Thoughts:
Robert Siodmak was one of the most influential stylists of the 1940s, helping to create the characteristic look of American film noir.
Criss Cross
is a cynical film noir of obsessive love and betrayal. It is enhanced by the beautiful dark photography of Frank Planer, the tight script by Daniel Fuchs, and the taut pacing by Siodmak. It's based on a story by Don Tracy.
Brendon Hanley says, "
Criss Cross
doesn't quite live up to the standard of director Robert Siodmak's enduring noir classic
The Killers
, but the film is nonetheless full of the stylish atmospherics, sly plot twists, human frailties, and fatalistic attitudes that defined the genre after World War II. The film certified Burt Lancaster as one of the stars of the genre."
Criss Cross
features the screen debut of Tony Curtis (then known as James Curtis). Curtis plays De Carlo's dance partner in a key scene at the Round-Up Bar. The song Curtis and De Carlo dance to is called "Jungle Fantasy" and is performed by Esy Morales who also makes a cameo appearance in this scene.
This film is a must-see for fans of film noir.
Brute Force (1947)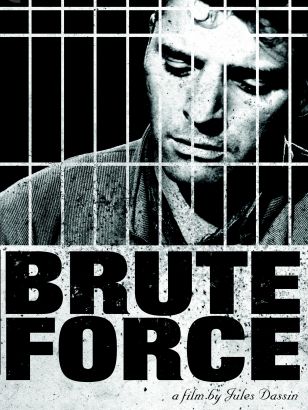 Leonard Maltin Review ***1/2:
D: Jules Dassin. Burt Lancaster, Hume Cronyn, Charles Bickford, Yvonne De Carlo, Ann Blyth, Ella Raines, Howard Duff, Whit Bissell, Jeff Corey, Sam Levene, Roman Bohnen, John Hoyt, Anita Colby. Tingling, hard-bitten prison film with its few cliches punched across solidly. Brutal captain Cronyn is utterly despicable, but you know he's going to get it in the end. Scripted by Richard Brooks, from Robert Patterson's story. Duff's film debut.
Meredy's Thoughts:
Director Jules Dassin would next direct the influential noir drama
The Naked City
; six years later, he would move to Europe after political blacklisting prevented him from continuing to work in the United States.
Still one of the harshest and grimmest of all noirs with Hume Cronyn as Capt. Munsey, the indelibly fascistic chief of security. The character of Munsey remains a compelling portrait of a grotesquely authoritarian personality. The rest of the cast is as good as Cronyn. Miklos Rosza's score and William H. Daniels' moody photography are vital elements in the film's impact.
Film writer Eddie Muller wrote that "the climax of
Brute Force
displayed the most harrowing violence ever seen in movie theaters."
My two favorite prison movies are
Brute Force
and
Caged
. I'll be rewatching it.
Desperate (1947)
Leonard Maltin Review **1/2:
D: Anthony Mann. Steve Brodie, Audrey Long, Raymond Burr, Douglas Fowley, William Challee, Jason Robards, Sr. An honest truck driver is victimized by racketeers and forced to flee with his wife. Well-made little film noir, if not as good as director Mann's follow-ups (
Raw Deal
,
T-Men
, etc.). Also shown in computer-colored version.
Meredy's Thoughts:
Anthony Mann made a substantial film out of very little with
Desperate
, a disturbing, noirish twist on traditional moral values, responsibility, and guilt.
Steve Brodie is convincing in his first important role. In fact, the whole cast acquits itself well, especially Raymond Burr as the psycho gang leader.
In all, this is one neat and diverting low-rent, high-quality thriller. A surprise ending caps this film noir mini-classic, which is best appreciated when not seen in its computer-colorized version. A *** in my book.
Asphalt Jungle, The (1950)
Leonard Maltin Review ***1/2:
D: John Huston. Sterling Hayden, Louis Calhern, Jean Hagen, James Whitmore, Sam Jaffe, John McIntire, Marc Lawrence, Marilyn Monroe. The plotting of a crime, and the gathering of a gang to pull it off; a taut, realistic film full of fine characterizations (especially Jaffe, and Monroe in a memorable bit). A model of its kind, frequently copied, and remade no less than three times (as T
he Badlanders
,
Cairo
,
Cool Breeze
). Scripted by Ben Maddow and Huston, from a W.R. Burnett novel. Also shown in computer-colored version.
Meredy's Thoughts:
The film tells the story of a group of men planning and executing a jewel robbery. It was nominated for four Academy Awards and was one of the most influential crime films of the 1950s.
Much imitated,
The Asphalt Jungle
was one of the first caper films to show a crime and its consequences from the criminals' point of view. It instigated the crime thriller subgenre of caper films.
Film writer David M. Meyer noted, "The robbery is among the best-staged heists in noir. The simple visual treatment, the precise movements of the actors, and the absence of music on the sound track raise the tension to a boiling point."
Both Huston and war hero star Sterling Hayden were members of the Committee for the First Amendment, which opposed the blacklisting of alleged communists active in the film industry during the Red Scare.
My rating is the same as Leonard Maltin's rating: ***1/2.
Wrong Man, The (1956)
Leonard Maltin Review ***:
D: Alfred Hitchcock. Henry Fonda, Vera Miles, Anthony Quayle, Harold J. Stone, Nehemiah Persoff, Peggy Webber. Unusual Hitchcock film done as semi-documentary, using true story of N.Y.C. musician (Fonda) falsely accused of robbery. Miles is excellent as wife who cracks under strain; offbeat and compelling. Written by Maxwell Anderson and Angus MacPhail.
Meredy's Thoughts:
The film was drawn from the true story of an innocent man charged with a crime, as described in the book,
The True Story of Christopher Emmanuel Balestrero
by Maxwell Anderson, and in the magazine article, "A Case of Identity" (
Life
magazine, June 29, 1953) by Herbert Brean.
For the only time in his many films, Alfred Hitchcock starts this picture talking to the camera and says that "every word is true" in this story.
Henry Fonda is solid in his role. Vera Miles steals the show in the tragic role of Fonda's wife.
Actors appearing in the film, but not listed in the credits, include Harry Dean Stanton, Werner Klemperer, Tuesday Weld, Bonnie Franklin, and Barney Martin.
Utilizing one of his favorite themes-the helplessness of the innocent individual when confronted by the faceless bureaucracy of the Law-Hitchcock weaves a nightmarish tale, all the more frightening because it really happened. A very good film. If you haven't seen, watch it.