Tension (1950)
Leonard Maltin Review **1/2:
D: John Berry. Richard Basehart, Audrey Totter, Cyd Charisse, Barry Sullivan, William Conrad, Tom D'Andrea, Lloyd Gough. Timid Basehart methodically plans to murder his wife's lover, only to have someone beat him to it in this intriguing melodrama.
Meredy's Thoughts:
Tension
is a good example of noirish post-war disillusionment with a great cast. Richard Basehart plays a difficult leading role well. Audrey Totter is downright sinister and sadistic. Barry Sullivan and William Conrad are fine as police detectives. Andre Previn's score is meh with every cue practically telegraphed in advance. The MGM music department should have chosen Miklos Rozsa.
Where Danger Lives (1950)
Leonard Maltin Review **:
D: John Farrow. Robert Mitchum, Faith Domergue, Claude Rains, Maureen O'Sullivan. Dr. Mitchum finds himself deep in trouble when he falls hard for manipulative, desperate Domergue. Atmospheric, predictable, and forgettable potboiler.
Meredy's Thoughts:
This could have been a classic film noir if a better actress had played the deranged femme fatale. Jane Greer would have been perfect. Unfortunately, the casting of Howard Hughes' "discovery" Faith Domergue really hurts the picture. Domergue has the looks for the part but not the experience or talent. Claude Rains is magnificent in a small role. Robert Mitchum, cast against type, is also excellent. Other positives are a screenplay featuring some great explorations of noir themes and a journey into hell that is quite effective. John Farrow's direction is strong, especially in terms of impending doom that grows stronger as the film goes along. Farrow nicely hits the nightmarish, hallucinatory qualities in this film noir plot. Nicholas Musuraca's cinematography is another great asset.
Woman on Pier 13, The (1950)
also known as I Married a Communist
Leonard Maltin Review **:
D: Robert Stevenson. Laraine Day, Robert Ryan, John Agar, Thomas Gomez, Janis Carter, Richard Rober, William Talman. Cornball acting and a "better-dead-than-Red'' scenario sink this noirish melodrama, which has become a relic of its era. Ryan is a shipping executive and former political radical whose past comes back to haunt him. The "commies'' (headed by Gomez) are depicted as two-bit gangsters, but Talman is especially good as a killer-for-hire.
Meredy's Thoughts:
This film previewed in Los Angeles and San Francisco in 1949 under the title
I Married a Communist
, but the name was changed prior to its 1950 release due to poor polling among those preview audiences. It was the first of RKO chief Howard Hughes' many anti-Red broadsides. Hughes offered the script to directors as a test of their patriotism. Thirteen directors turned down the film before it was finally made under the British director Robert Stevenson. The cast is an excellent one. Unfortunately, the actors are stuck with cartoon characters and an inane script. Communist villains are depicted in 1930's gangster flick fashion. A saving grace is the dramatic noir style photography by Micholas Musuraca.
Lady Without Passport, A (1950)
Leonard Maltin Review **1/2:
D: Joseph H. Lewis. Hedy Lamarr, John Hodiak, James Craig, George Macready. Turgid melodrama as Lamarr seeks to leave Havana, former romantic and business associations behind her.
Meredy's Thoughts:
A big problem I have with this film is the miscasting of Hedy Lamarr as a poor refugee from a concentration camp. She's too beautiful to be believable. In addition, she doesn't have the acting chops to pull off the role. The rest of the cast is uniformly good. Joseph H. Lewis' direction has flair and imagination and he makes the material work far better than it should. Though this is one of the much praised poverty row director's poorer films, it still is an interesting watch due to the strange effects of the visuals and the surreal atmospheric location shots.
Cause for Alarm! (1951)
Leonard Maltin Review ***:
D: Tay Garnett. Loretta Young, Barry Sullivan, Bruce Cowling, Margalo Gillmore, Irving Bacon, Bradley Mora, Carl Switzer, Richard Anderson. Simple, effective thriller with Young registering as the panic-stricken wife of psychotic Sullivan. Tension builds, and there's a neat plot twist.
Meredy's Thoughts:
This unusual paranoiac film noir trades the dark alleys of urban menace for the sunny, tree-lined streets of middle-class suburbia. Loretta Young and Barry Sullivan are effective. Bruce Cowling is a tad wooden. Margalo Gillmore and Irving Bacon add a lot in support. (Irving Bacon plays a postman again! He was Blondie's postman.) Tay Garnett's smooth direction, Joseph Ruttenberg's cinematography and Andre Previn's score are also huge pluses. Young's deadened narration adds an eerie mood of doom to the suburban setting.
No Questions Asked (1951)
Leonard Maltin Review **1/2:
D: Harold F. Kress. Barry Sullivan, Arlene Dahl, Jean Hagen, George Murphy, William Reynolds, Mari Blanchard. Snappy little film of insurance company lawyer Sullivan seeking easy road to success via crime rackets.
Meredy's Thoughts:
No Questions Asked
is a nicely done little "B" film noir. Sidney Sheldon's screenplay features a great opening, leading into a flashback that's good for a while then meanders a bit, followed by a solid climax. Barry Sullivan is good in the lead, Arlene Dahl is merely attractive and Jean Hagen steals the picture.
No Questions Asked
was in line with the harsher, less frothy fare produced by MGM during the Dore Schary regime.
Strangers on a Train (1951)
Leonard Maltin Review ****:
D: Alfred Hitchcock. Farley Granger, Ruth Roman, Robert Walker, Leo G. Carroll, Patricia Hitchcock, Marion Lorne. Walker gives his finest performance as psychopath involved with tennis star Granger in "exchange murders." Lorne is unforgettable as doting mother; so is merry-go-round climax. First-class Hitchcock, based on a Patricia Highsmith novel and coscripted by Raymond Chandler. Remade as
Once You Kiss a Stranger
and the inspiration for
Throw Momma from the Train
. British version of film, now available, runs almost two minutes longer, has a different ending and franker dialogue in the first scene where Granger and Walker meet.
Meredy's Thoughts and Some Trivia:
If you haven't seen
Strangers on a Train
, add it to your list. The film is number 32 on AFI's 100 Years... 100 Thrills. In this psychological crime thriller with film noir elements, Alfred Hitchcock explores one of his signature concerns: the coexistence of good and evil in one person. The story is structured through a series of doublings. Watch closely for the persistent pairs which point to the ineffable connection between Bruno and Guy. Doubles & contrasting doubles. Even a two-part melody in the opening segment with the shoes and walking. Doppelgängers.
Strangers on a Train
was a novel before it was a movie. It was Patricia Highsmith's first novel and she included homosexual undertones in many of her works. Hitchcock and Robert Walker worked out an elaborate series of gestures and physical appearance to suggest the homosexuality and seductiveness of Bruno's character while bypassing censor objections.
Hitchcock and cinematographer Robert Burks collaborated on an ingenious double printing technique to create this iconic shot. To achieve the shot of Bruno murdering Miriam reflected in her glasses, an enormous distorting lens was constructed. The two actors were then reflected in it at a 90-degree angle.
The scene of the climactic fight on the carousel and the ride's subsequent explosion was very complicated to shoot with a combination of live action and rear screen projection. It usually took about a half day to set up each shot so the actors and the projected image matched.
The stunt where the man crawled under the carousel was not done with trick photography. Alfred Hitchcock claimed that this was the most dangerous stunt ever performed under his direction, and would never allow it to be done again.
Alfred Hitchcock's cameo appearance in this movie occurs 11 minutes into the film. He is seen carrying a double bass as he climbs onto the train.
Hitchcock personally designed Bruno's necktie with its threatening lobster claw image.
Hitchcock used the left side of the screen for evil and/or weaker characters. He used the right side of the screen for characters who are either good or temporarily dominant.
This is the movie that determined the location of Carol Burnett's star on the Hollywood Walk of Fame. In 1951, she was working as an usher when this film was playing at the Warner Theater on Hollywood Blvd. A couple arrived late, and Burnett, having already seen the film, advised them that it was a wonderful film that should be seen from the very beginning. The manager of the theater very rudely fired her for this. Years later, when Carol Burnett was asked where she would like to have her star placed on the Hollywood Walk of Fame, she requested that it be placed in front of that theater.
D: John Cromwell. Robert Mitchum, Robert Ryan, Lizabeth Scott, Ray Collins, William Talman, Robert Hutton, William Conrad, Don Porter. Police officer Mitchum and gangster Ryan spend almost as much time fighting their corrupt superiors as they do each other. Unusual film noir with strong performances (especially Ryan's) and bizarre ending; based on play previously filmed by producer Howard Hughes in 1928. Co-scripted by W.R. Burnett; some scenes were directed by Nicholas Ray.
Meredy's Thoughts:
The film, a remake of the 1928 film
The Racket
, is based on the Bartlett Cormack play. (Edward G. Robinson played the racketeer in the original Broadway production.) Both the silent and sound versions of the property were personally produced by Howard Hughes. Robert Mitchum and Robert Ryan turn in captivating performances. With Lizabeth Scott and William Talman along for the ride, it's worth a look.
Too Late for Tears (1949)
also known as Killer Bait
Michael Phillips Review ***:
D: Byron Haskin. Lizabeth Scott, Don DeFore, Dan Duryea, Arthur Kennedy, Kristine Miller, Barry Kelley. The movie failed to find much of an audience in its own time. It looks a little better every year.
Synopsis: A married woman's discovery of stolen money changes her character for the worse.
Meredy's Thoughts:
The film was reissued as
Killer Bait
in 1955. The screenplay was written by Roy Huggins, developed from a serial he wrote for
The Saturday Evening Post
. It's proof positive that the love of money is the root of all evil. It relates to the ambitions the middle-class had during the postwar period to better their life materially and socially. Lizabeth Scott is fine as the femme fatale. The public domain prints are bad. Hoping for a great print from TCM. The film was restored in 2014 by the UCLA Film and Television Archive and the Film Noir Foundation, with the Hollywood Foreign Press Association providing some of the necessary funding.
Strange Love Of Martha Ivers, The (1946)
Leonard Maltin Review ***:
D: Lewis Milestone. Barbara Stanwyck, Kirk Douglas, Lizabeth Scott, Van Heflin, Judith Anderson, Darryl Hickman. Gripping melodrama, with Stanwyck bound to her husband by crime she committed long ago. Kirk Douglas' film debut.
Meredy's Thoughts:
The film is based on the short story "Love Lies Bleeding" by playwright John Patrick. In 1974, it fell into the public domain in the United States due to the copyright owner's failure to renew the copyright registration in the 28th year after publication. The film features compelling, multi-layered performances from the stars (including Lizabeth Scott). Humphrey Bogart and Lauren Bacall recommended Kirk Douglas to producer Hal B. Wallis. This one is a must-see.
99 River Street (1953)
Leonard Maltin Review ***:
D: Phil Karlson. John Payne, Evelyn Keyes, Brad Dexter, Peggie Castle, Ian Wolfe, Frank Faylen. Rugged crime caper with Payne caught up in tawdry surroundings, trying to prove himself innocent of murder charge. Unpretentious film really packs a punch.
Meredy's Thoughts:
Director Phil Karlson made his mark in the 1950s with a series of tough, realistic, violent crime films noted for their gritty location shooting and Karlson's almost fanatic attention to detail. Karlson loves close-ups. They force the audience to concentrate on the character at hand, to experience his experience in a direct manner. Cinematographer Franz Planer provides some stunning, evocative shots and angles that compliment and enhance the action and the storytelling. Planer and Karlson handle the climactic sequence expertly. The cast is fine. Give this one a try. I think you'll enjoy it.
Conflict (1945)
Leonard Maltin Review **1/2:
D: Curtis Bernhardt. Humphrey Bogart, Alexis Smith, Sydney Greenstreet, Rose Hobart, Charles Drake, Grant Mitchell. Far-fetched story of husband (Bogart) plotting to murder wife (Hobart) to marry her sister (Smith). Unconvincing plot not salvaged by good cast.
Meredy's Thoughts:
Conflict
should have been a classic film noir instead of an average one. Director Curtis Bernhardt leaves the plot with too many artificial devices to be effective. However, it is worth seeing just for the fact that the film is the only one in which Bogart and Greenstreet co-starred where Bogart, not Greenstreet, is the villain. This makes both portrayals a bit more complex than they would otherwise be.
Klute (1971)
Roger Ebert Review ***1/2:
D: Alan J. Pakula. Jane Fonda, Donald Sutherland, Charles Cioffi, Roy Scheider, Dorothy Tristan, Rita Gam. Playing a complex, sharpy written part, Jane Fonda won the Best Actress Oscar for her strongest dramatic performance in Alan Pakula's well mounted dramatic thriller.
Synposis: A small-town detective searches for a missing man linked to a high-priced prostitute.
Meredy's Thoughts:
Klute
is the first installment of what informally came to be known as Alan J. Pakula's "paranoia trilogy." The other two films in the trilogy are
The Parallax View
and
All The President's Men
. Fine neo-noir and worth seeing for the performances of Jane Fonda and Donald Sutherland alone.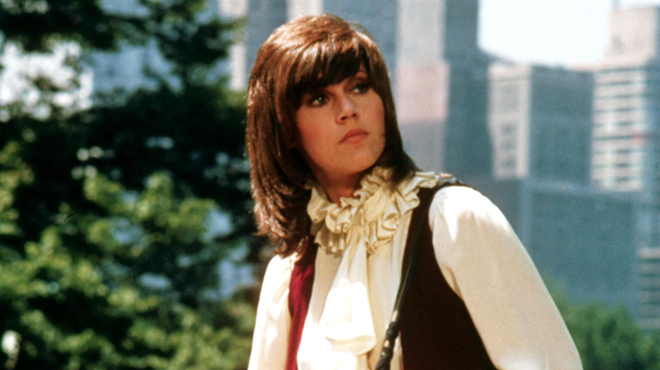 Klute had Fonda showing off the shag hairstyle

that became




so widespread that the shag is eponymous with the film's title.